Canada is full of industry towns.
On the east coast in Corner Brook, Newfoundland, you can still see the influence industry can make on a town's landscape.
When the railway was extended to this area of Newfoundland it's centres of commerce focused mostly on lumber and fish. Corner Brook had a population of around 1300 residents at the turn of the century when, in the 1920's, the decision was made to build a pulp and paper mill there. The pulp and paper company would leave its mark on the residential landscape of the area.

Townsite, Corner Brook 1925 Courtesy of The Rooms Newfoundland and Labrador
The Townsite was planned in 1924 with a range of housing for each strata of employment. There were detached homes of the management, ranging down to more modest bunkhouses for those in construction and general labour.
Over 200 residences were built within two years in four categories. Type 1 houses were the largest and meant for company executives, while type 4 were the smallest and meant for skilled tradesmen or clerical staff.
All of the houses are very similar, borrowing from a traditional vernacular, creating a nostalgic charm to this area.

Townsite 1925 Courtesy of The Rooms Newfoundland and Labrador
The homes were designed by architect Andrew Randall Cobb, who drew inspiration from the Arts and Crafts Movement and, in particular, the craftsman houses found in Nova Scotia.
Andrew Randell Cobb was an American architect who trained in Canada, the US and France, who established his architectural practice in Halifax, Nova Scotia in 1912.
He would leave his mark on many eastern Canadian towns; with much of what he designed still standing today.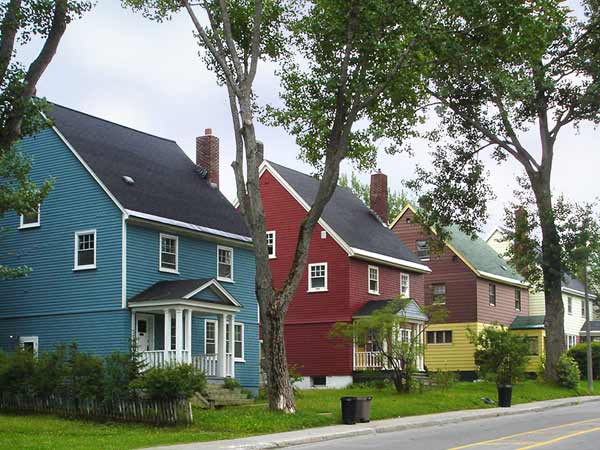 Remaining Townsite houses Courtesy of This Old House

The Corner Brook houses incorporated steep gabled roofs, covered porches and clapboard siding.
They also offered modern conveniences like electricity and running water, which had previously been limited to only the most well-to-do residents on Newfoundland's west coast.
Today, 180 of these dwellings still remain standing, offering a glimpse into what life in a booming industry town nearly 100 years ago was like was.
To learn more about the building of Corner Brook's Townsite click here!
Research and Written by Sarah Coates Masters Student of History, University of Toronto