The landscape dictates the opportunities and constraints of what you can build.
Which is what happened in Flin Flon, Manitoba, where necessary concessions had to be made to natural terrain.
Here, rock prevented the early water and sewer lines from being put underground.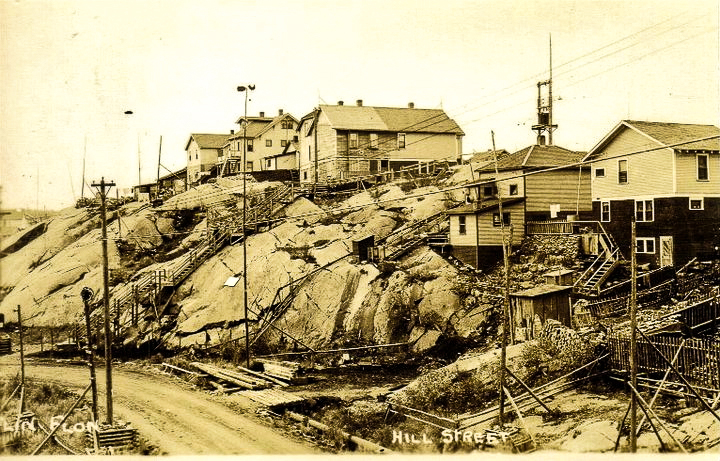 Hill Street 1940's - Everything had to run over the rock with homes perched on top (Photograph courtesy of the Flin Flon Archives and the Flin Flon Heritage Project)
This northern mining town is built on the hard bedrock of the Canadian Shield.
Because major blasting would have been required - and costly - to put the sewage pipes underground, initially waste was being picked up at the homes which became very difficult and dangerous with the winter ice.
To resolve the issue, Dr. Norman Hill of the University of Manitoba designed the sewer boxes in 1930's as an alternative option.
Top 1937 sewer pipes on the right side
Bottom c.1947 sewer pipes on the right side covered with a boardwalk
(Photo courtesy of the Flin Flon Heritage Project)
While more economical, the decision to install sewage pipes above ground created a new set of problems. With the frigid winters (-40 to -50 degrees Celsius), there is always the concern the pipes may freeze so they're frequently flushed with heated water.
While these occurrences are likely, the ease of repairs to this surface system are much easier than the more ubiquitous underground systems.
Flin Flon is a great, surviving example of these sewers. The boxes, built of wood and insulated by sawdust, also doubled as the early sidewalks. They still serve this purpose today.
The sewer box sidewalks that still run through the older areas of town (Photo courtesy of Wikipedia Media Commons)
These sewers remain in use. To local residents, they are not seen as unusual, but part of their everyday landscape.
In Flin Flon, like many smaller isolated northern towns, adapting to the environment is necessary. Simple because it will not adapt to you.
Researched and Written by Sarah Coates, Masters Student of History, University of Toronto